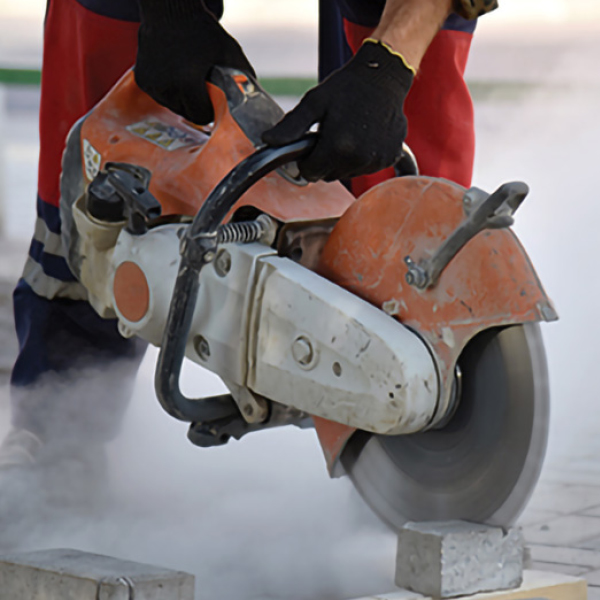 13 May 2019
Silica Dust
Crystalline Silica, or quartz as it is often referred to, is a naturally occurring mineral.
Altering this material by way of sawing, grinding, cutting, polishing, crushing and drilling causes the production of a dust that can contain respirable crystalline silica (RCS).
These dust particles are extremely small (100 times smaller than a grain of sand and much smaller than asbestos fibres), are not visible to the human eye, are easily inhaled deep into the lungs and can remain suspended in the air long after larger particles have settled.
In this case it's the dust particles that aren't visible to the naked eye that are harmful to those exposed.
RCS is commonly found in not just the ground but in many building materials that surround us today (concrete, sand, gravel, clay, bricks, tiles and manufactured stone bench tops).
Typical levels of Crystalline Silica in various materials –
Sand, Sandstone – 70-100%
Manufactured Stone – 93%>
Granite – 20-45%
Concrete, Mortar – 25-70%
Calcium-Silicate Bricks – 50%
Slate – 20-40%
Brick – Up to 30%
Fibre Cement Sheeting – 10-30%
Demolition Dust – 3-4%
Marble & Limestone – 2%
Typical industries where workers may be exposed to RCS include –
Engineered Stone benchtops
Sandstone/Heritage Works
Concreting – laying, shotcrete, cutting
Tunnelling and boring
Quarrying
RCS can be fatal to humans with exposure potentially leading to silicosis (scarring of the lung), lung disease, cancer and immune systems issues/arthritis.
It is estimated that as many as 1 in 100 workers will develop issues in their lifetime as a result of exposure where safety standards were inadequate.
It's important that all appropriate control measures are put in place to protect individuals against the effects of RCS dust –


Eliminate/minimise/control tasks that involve dust creation - Is there an alternative product or work practice that can be introduced?
Avoid sweeping, blowing or using compressed air to clean dust from surfaces
Provide dust suppression/exhaust ventilation
Ensure hand held tools include dust capture systems
Employ water cutting/suppression
Avoid use of compressed air during clean up. Substitute with water and/or Class M/H vacuums
Provide (and maintain) appropriate respiratory gear and PPE. Respirators should be fit tested to Australian Standards and employees clean shaven (where disposable, half and full-face units are employed)
Implement regular training that focuses on material handling/PPE maintenance/work processes/adherence to safety data sheets
Conducting regular fit testing and air monitoring
It is vital that workers who are exposed to RCS, or are concerned about any potential health effects, are offered regular health monitoring. This includes chest x-rays and lung tests.
The likes of Safework NSW and WorkCover Qld offer subsidised lung screening.

In many areas of Brisbane, Logan, Gold Coast, Tweed and Northern NSW, ABL offers free delivery.
Please
contact us
if you need any help!