24 June 2015
Tips on Sun Protection
Workplace Safety Made Easy Part 4: Sun Protection – Straw Hats and Sunscreen.
The next part of our Worplace Safety Made Easy Articles will be devoted to Sun Protection.
UV radiation is the major cause of skin cancer in Australia and represents a major worplace hazard to employees who spend time working outdoors.
The industries recording the highest skin cancer risk are those where the employees are outdoors or exposed to UV rays.

These industries include:
Construction, telecomunications and utilities, swimming pools and beach lifeguards, police and traffic officers, agricultural, farming and horticulture, landscape and gardening, fisheries, road workers, municipal employees, postal workers, dockyard port and harbour workers, physical education teacher and outoor sports coaches, surveyors, forestry and logging, ski instructors and lift operators, mining and earth resource, taxi, bus and trucker drivers, delivery and courier drivers, labour hire company
What is Ultraviolet (UV) Radiation?
UV radiation can stem from the sun or other artificial sources, such as welding work. It causes sunburn and skin damage which can lead to premature ageing and skin cancer.
Levels of UV radiation can change from day to day with damage to unprotected skin a danger when UV levels reach a three or more.
A common mistake people make is that they only use sun protection when the "feel themselves getting burnt". Solar UV cannot be seen or felt therefore using sunscreen and wearing a hat is crucial, regardless of how hot it is or how bright the sun is shinning!
Important information regarding skin cancer in Queensland:
A recent area of focus within workplace health and safety has been the provision of sun safety. Skin cancer accounts for 80% of all new cancers diagnosed in Australia with Queensland having the highest rate of skin cancer in the world. Now that is a scary fact!
Here are 5 ways to protect yourself:
1. Sun Protective Clothing - Wear long sleeved shirts with a collar and trousers.
2. Sunscreen - Apply a SPF30+ or SPF50+ sunscreen to any bare skin 20 mins before sun exposure. Re-apply every 2-4 hours or as needed (especially in high humidity)
3. Headwear -
Wear a broad brimmed or legionnaire style hat. If you wear a hard har ensure it has a brim attachment. DON'T forget to protect your neck and ears with a neck flap.
Purchase your
wide brimmed hat
or
hard hat brim
at ABL!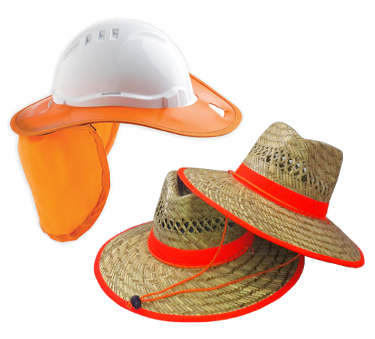 4. Avoid the sun -
Seek shade wherever and whenever possible.
5. Sunglasses -
It's important to protect your eyes too!! Wear close fitting wrap around style sunglasses when you're outside or diving.
Purchase your
sunnies
from ABL.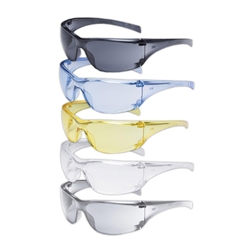 6. Stay hydrated -
Aswell as protecting the outside of your body you must also remember to protect the inside. Staying hydrated is one of the most important things to remember when out in the sun.
View ABL's range of
Heat Stress remedies here!