Head Protection Made Easy
(24/06/2015)
Workplace Safety Made Easy: Part 7 - Protective Head Wear Made Simple


The primary type of protective headwear used within industrial workplaces is the hard hat. This article explains what a hard hat is, what the Australian Standards are, and discusses when a hat should be used. Multi-functional use of hard hats using accessories to include sun and hearing protection are suggested. Included also within ABL's head protection range are broad brimmed hats for sun protection in situations where hard hats are not required.
1. What is a hard hat, and why should you use them?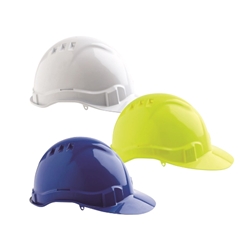 A hard hat is a protective helment designed for use in a workplace where the user may need to be protected from injury by fallling objects, impact with other objects, debris, bad weather and electrical shock.
The hard shell of the hat assists to deflect blows and injury to the head, whilst the internal webbing and provides a 30mm buffer zone to reduce the risk of impact being transferred onto the skull. The harness spreads the weight of an impact across the entire helmet and top of the head.
ABL stocks the Prochoice range of hard hats. These meet Australian Standards AS/NZS1801.


2. What do the Australian Standards mean?
The AS/NZS1801 standard means that the hard hats comply with a range of tests to meet Australian Standards. These are related to performance in hot, cold and wet environments. Tests of Electrical Resistance, Stiffness of the shell upon force impact, Shock Absorbtion and Resistance to Penetration are carried out to determine the suitablity of the product for industrial use.
For more information on the specifics of these tests, please don't hesitate to ask. All hard hats stocked by ABL meet these Australian Standards.
3. When should you replace your hard hat?
There are no set time limits to hard hat use, but a five year maximum use before replacement is usually recommended by the manufacturer. The date stamp on the helmet is the manufacture date under Australian Standards, it is not a best before date.
Hard hats should be replaced if there are signs of wear and tear on either helmet or harness, common signs include:
- Cracks in shell

- Shiny shell surface becomes dull or chalky

- Shell becomes brittle

- Impact to helmet surface is made (the shell and/or harness may be weakened)

- Harness suspension is brittle

- Mount/s break off

- Suspension does not hold securely to head

- Cradling straps are worn
Hard hats are often poorly treated in the workplace, so users must regularly inspect both the shell and harness of their hard hat for signs of wear and tear to ensure their hats are going to work to their optimum level. Hats should always be stored in a cool dry place (a rear shelf of a car is not appropriate as this is very hot) when not in use.

4. Hard hat accessories for greater protection in your work environment

Other head hazards such as sunburn, particle or spray injury and loud or persistent noise may occur in the workplace.
ProChoice provides additional accessories which may be used in combination with their hard hat range to reduce these hazards.
Browguards, face shields/visors, sun brims and flaps and ear muffs may all be purchased separately to fit the Pro Choice hard hats.
Other customisations to your hard hat may include Printing (logos, names etc) and Reflective Strips.

5. Sun protection where hard hats are not required

In instances where a hard hat is not required in your workplace, but sun protection is required for the head/face, ABL stocks sun hats, UV protective safety glasses and sunscreen.
ABL's head protection range also includes Welding Helmets but these will be featured in another article series.


Hard Hats are just one part of ABL's comprehensive Safety Range. Should you require advice for your business's safety requirements please do not hesitate to for a presentation of our full range. Please to be directed to the hard hat section of our online store.