01 November 2016
How The Right Plan Can Help You Execute an Easier Relocation
The Stress Of Moving And How The Right Supplies Cam Make Your Relocation Easier
Moving is quite often one of the most stressful life experiences that families face, especially when they must handle all of the tasks on their own. The logistics of a big move go beyond packing and transportation and include a list of seemingly endless needs that must be fulfilled in such a short amount of time. For example, when you move, you have to get in touch with all of your utility providers, your bank, your credit providers, your children's school, and others to change your address. This may seem like a straightforward process, but you have to accomplish it while also packing your belongings and going about your already-busy routine.
While our area has plenty of packing and moving services, they may not be the most realistic investment for already financially-burdened families. Instead, you can save money by packing and moving yourself. While it may seem like a big project, a little planning and the right tools can help you take your move from overwhelming to perfectly executed.
First and foremost, making a big move easier starts with a plan. You need to break the process down into steps, along with a timeline of when each needs to ta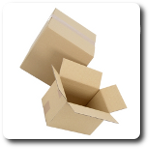 ke place. From transferring utilities to any equipment rentals, you want to know when each major step needs to happen so that you aren't left scrambling to complete forgotten tasks. The same planning also applies to your packing process. For example, rather than purchasing moving boxes and starting blindly, think about what custom boxes and cartons you will need for specialty items. This will allow you to create a budget for your moving expenses so that you feel financially confident as you proceed with the process. Likewise, don't forget about additional materials you will need, such as bubble wrap, packing paper, and furniture blankets.
Next, your packing process needs a logical approach. Packing should start as soon as you know you are moving, and if you commit to just a few areas a day, you won't have to disrupt your normal routine quite so much. Start with rarely used items and mementos, while leaving the most-used items until last. Take a practical look at your home and decide what can be packed, but also what can be recycled, sold, or donated. Rather than take the effort to pack and move these unnecessary items, get rid of them before your move. As you proceed, you also want to create a "new home" kit that includes everything you would need for your first day at your new place. Items like personal toiletries, a change of clothes, clean sheets, trash bags, cleaning supplies, can all be packed together in your kit so that you know exactly where the essentials are that you will need immediately. Finally, when moving day arrives, know that even the best-laid plans will have the occasional hiccups. You need to be flexible with your family and keep your stress level under control.
As you plan your move, remember that ABL Distribution is the Gold Coast's go-to provider of affordable packaging materials.
We have everything you need for a flawless move. Let us help you streamline the process with the right tools so that you can arrive at your new home feeling confident that both your belongings and your budget are safe and sound.