Boxes And Supplies For Moving.
Moving house is something few people enjoy. But nearly half of Australians will move house within the next five years, according to the Australian Bureau of Statistics. Most people will move several times in their adult lifetime – looking for bigger quarters as they marry and start a family, moving into fancier places as their income increases, and downsizing as they age and their children leave home.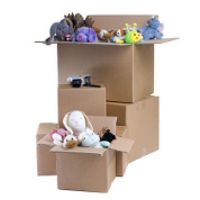 Whatever your situation, here are some tried and true tips to help you make your next move as easy as possible.
Streamline your possessions. Moving is a great time to evaluate what you want to keep and what you can do without. It's much easier to clean house before you move than to try to de-clutter as you unpack in your new place. And, if you're using a moving company, you can save money if you have fewer boxes to move.
Work a little every day. Instead of spending a few days of nonstop packing, begin a few weeks before your move. Start by packing out of season clothing and other items you won't need for a while. Give yourself a daily quota of boxes to pack and the job will be easier in the long run.
Don't pack your closet. Invest in several large wardrobe boxes – you can slide your clothing off the rod and into the wardrobe box. It makes the move easier at your old home and in your new one.
Use coloredmasking tape to make unpacking easier. Assign a color to each room and write on the colored tape what's in the box and where it should go. The colors will help movers see at a glance where to put each box.
Use bubble wrap to protect dishes, crystal and other breakable items. Packing dishes vertically (like record albums) rather than horizontally offers better protection.
Protect your furniture with stretch wrap.A roll of stretch wrap can prevent scuffs and scratches during the move. You can also use stretch wrap to group smaller items together. For instance, you can package small parts that go with things you have to take apart, like mounted TV sets and curtain rods.

Finally, take photos of your cleaned-out old home and your new home before moving in. If there are any problems, you'll have a record of what your old place looked like when you left and what shape the new place was in when you arrived.
Where can I find the supplies I need to move house?
ABL Distribution in Queensland has everything you need for a move across the street or across the globe. We have a wide selection of packaging supplies, cardboard cartons and boxes, bubble wrap, stretch wrap and masking tape. We carry packaging supplies like bubble wrap, masking tape, plastic bags, cardboard boxes, moving boxes, furniture blankets and more. If you don't live near Gold Coast, you can order from our handy online catalogue.