Ship Your Products Efficiently
Small businesses are the lifeblood of Australia. According to the government, almost 88 percent of Australia's 2.1 million active companies are small businesses. Fully 61 percent had no employees, and another 27 percent had four or fewer workers.
What do all these small businesses do? Statistics for new businesses started last year indicate that most were in retailing, consumer services; and health, education and social services. Other new businesses focused on business consulting; construction; manufacturing; agriculture; hospitality and communications, according to the Department of Industry, Innovation, Science, Research and Tertiary Education.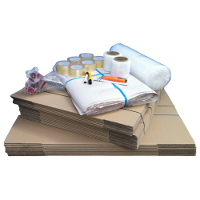 What are some of small businesses' biggest challenges?
Ask any small business owner and you'll hear that many challenges stem from cash flow, containing costs and managing logistics. In addition, many small business owners feel as if they have to handle everything themselves.
How could I deal with these challenges?
Many business owners find that securing and maintaining a line of credit can eliminate some cash flow problems. That way you can ensure the availability of the supplies you need, even if your customers don't pay as rapidly as you like.
Containing costs can be a big challenge. Some enterprising owners have found that they can build a healthier bottom line by upselling existing customers. Pay attention to what your customers ask for, and ask them what you could do better or how else you can serve them. This could help you increase profits without incurring additional costs.
ABL Distribution can help small business owners with the last two challenges – managing logistics and feeling as if you have to do everything yourself.
What can ABL Distribution do for my business?
ABL Distribution, a leader in packaging, tapes, glues, boxes, and other industry supplies, can help you ship your products efficiently, containing your overhead costs and helping to ensure that your products reach customers in good condition. We have a wide selection of standard and custom boxes and cartons, corrugated cardboard roll, and cardboard boxes. If you're shipping fragile items, we offer bubble wrap, expanding polyurethane foam, air cushions and void fill to protect your merchandise.
Selling music or videos? We have DVD and CD boxes that will make it simple to get your creations to your audience. For books and other small items, we offer pulp padded mailers and bubble wrap padded mailers.
There's no need to feel that you need to do everything alone. Let the experts at ABL Distribution assist you in choosing the best ways to get your products to your customers. We're one of Queensland's largest distributors of industrial packaging and related products. If you're not near Gold Coast, please take a look at our online catalogue at http://www.abldistribution.com.au/t-Catalogue_Download.aspx.
ABL Distribution is a family-owned business that understands the needs of your business. Please call us 1 800 984 822 to find out how we can help your business succeed.