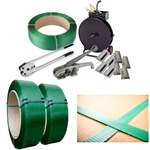 From steel strapping tools to cardboard boxes, pallet wrapping and equipment, and more, ABLDistribution has all of your warehouse and packaging supplies needs covered.
Our strapping equipment includes:
Semi-automatic and automatic poly strapping machines.

Semi-automatic machine is easy to operate and provides for simple maintenance. The strapping speed is 2.5 seconds/strap and the machine includes one roll of 12 MM strapping.

Automatic machine is also easy to operate and requires little maintenance. This durable, reliable machine offers quick and easy strap loading and mechanical outside tension control. It boasts proven quality at an affordable price.

Metal/Steel strapping. We offer rope wound steel strapping, zinc steel strapping, ribbon wound steel strapping, and more.
Strapping tape and strapping tape dispenser.

Machine polypropylene strapping.

And much more.
Our other warehouse and packaging equipment and supplies include:
Cardboard boxes in a variety of sizes. From heavy duty boxes, to large and small cartons, to mail tubes and pallet boxes, we have an array of boxes to fit your needs.

Bubble wrap and void fill.

3m VHB tape. We offer several types of 3m VHB double sided tape including clear, grey, and white tape.

Shrink film and sealers.

Pallet stretch wrapping and equipment.

Spray paints and line marking.

Velcro products.

And the list goes on, it doesn't stop here. Browse our site for a complete list of products.
There's so much more! For nearly 30 years, we have been working to deliver value to your business by becoming your one-stop-shop for all of your needs. We continue to add products to our line and grow our relationships with suppliers so that we can offer you the best products at the best prices.
Download our brochure, browse our site, or contact us today if you have any questions. Be sure to check out our specials and subscribe to our newsletter for special offers, important updates, and tips and tricks.