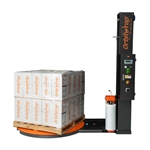 Your warehouse is the heart of your business operation, but maintaining a safe, effective environment while safeguarding and moving your merchandise is a challenge for every industry. At ABL Distribution, we offer the packaging equipment to businesses so that they can focus more on operations, and less on the minutiae of proper packaging. From pallet wrapping machines to steel strapping tools, we have everything you need to safeguard both your merchandise and your employees.
How Do I Find The Right Products for My Operation?
ABL Distribution has spent nearly 30 years mastering our knowledge of industrial packaging needs, and cultivating the product catalogue to support businesses across all industries. For example, we know that for many of our clients, pallet wrappers are a necessary tool for moving merchandise safely, and they need equipment that they can count on to do the job. Our shrink wrap equipment also helps protect products, and we work carefully with our clients to discern their specific requirements. We also know that strapping tape helps safeguard containers, but do you know the difference between polyester strapping versus steel strapping ? Our expert team can guide you through the packaging solutions that best meet your needs so that you know you are investing in exactly the right products.
What sets ABL Distribution apart is our genuine commitment to selection, affordability, and dynamic customer service. We don't just want to sell you pallet wrap; we want to match you with a trusted product so that you can keep your focus where it belongs—on your own business operations. We believe that our clients deserve the confidence that comes from knowing they have a partner who supports their operations, even when it comes to the smallest details.
If you would like to know more about how our products can boost both safety and efficiency in your warehouse, call 1 800 984 822 today, our team will help you find the strapping and equipment to suit your needs and show you why we continue to be Queensland's first choice for industrial packaging and warehouse supplies.