Saving Your Company Money with Wholesale Packaging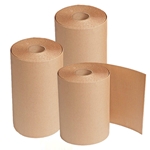 The cost of running a business is not cheap, and we are constantly looking for ways to save money anywhere we can. While you have probably thought of almost everything imaginable, here are just a few things that may help.
One thing to note is that common items can cost or save you money. We often think of everyday items such as cleaning supplies, toilet paper, and hand soap as things that we must have. This is true, but what is also true is we often lose sight of how much we are spending on these items. Because the price of the individual items seems small we usually pay less attention to these than we do to larger purchases.
The same idea is true for packaging supplies. When you look at the price of a roll of tape or a cardboard box, it doesn't seem like that much. However, when you add up the cost of thousands of these items, cost saving seems a bit more imperative.
Buying all of your cleaning and packaging supplies for a one-stop shop company such as ABL Distribution can save you a lot of money. You don't have to spend time searching for everything through various suppliers because it is all in one place. This way you can spend less time on supplies and more time running other parts of your business.
We also suggest considering wholesale packaging. Wholesale packaging is a great cost saver because you are able to get the most competitive pricing on some of the best brands on the market. If you can, buy in bulk to save even more (think Sam's). A lot of times buying in bulk will save you money on your purchase, but it can also save you money on shipping, it all adds up! Always be sure to check with the company to make sure they offer discounted or free shipping on purchases over a specified amount.
Buying in bulk and buying commercial cleaning supplies will also save you a lot of money throughout the year. When you are running a business, you will go through many of these supplies ten times as fast as you would at home. Things such as toilet paper and paper towels are wound tighter and on much bigger rolls. When you add up the cost of all of your packaging supplies and cleaning supplies, you can see that you are saving a lot of money that could be put back into running your business.
For more tips and cost saving ideas on packaging supplies in Australia, be sure to contact us. ABL Distribution is one of Queensland's largest family owned distributors of wholesale packaging and cleaning supplies at some of the best prices.
Give us a call today at 1-800 -984 -822 or email us if you have any questions about your warehouse packaging needs.