There are many different types of boxes that can be used to ship or move certain items.
With so many options to choose from, it's hard to know which containers to purchase, but this guide will help you identify what specific types of boxes are good for.
· Removalist boxes and cartons: These are pretty standard boxes meant for moving anything and everything. They are pretty general—not specific to any particular items—but can be used for clothing, housewares or other small items. There are large sizes available in removalist cartons as well.
· Teachest boxes and cartons: Teachest boxes and cartons are made for items that require a little more support. The double walled boxes are perfect for moving heavier items like pots and pans, glasswear or some electronics. The extra support ensures that the bottom won't split open, making it the top choice for any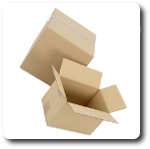 average-sized heavy objects.
· DVD and CD boxes: As their name implies, these boxes are ideal for transporting or shipping. They are crafted with a thicker cardboard and molded in a shape that perfectly holds a few DVDs or CDs.
· Mailers: Mailers are pretty standard heavy-duty bags or envelopes that are used to mail different things. They often have bubblewrap or padding inside to protect whatever is being mailed, and are a good choice for any small but fragile items. From books and t-shirts to boxes of chocolate, mailers can fit a wide variety of objects.
· Mail tubes: When it comes to things like posters, papers or maps, the best way to transport them is to roll them and place them in a mail tube. End caps hold your items in place and they are able to move freely, whether through the mail or simply traveling with you.
· Surfboard shipping boxes: Some of the strangest shaped yet popular-to-ship items are surfboards. Surfboard shipping boxes are sturdy, reliable ways to transport your beloved surfboard—either to ship or just to protect it from scrapes and scratches while moving.
If the available boxes don't fit your packing needs, ABL Distribution also offers custom boxes and cartons in addition to our cardboard boxes in Brisbane & Gold Coast. To craft a custom box of your own or to find out more about our many packing options, call us at toll-free 1800 984 822 or contact us via our web form.