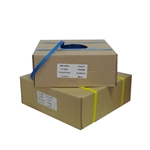 Packaging and Shipping Tips for Industrial Customers
One of the most common causes of loss in the industrial arena is receiving of materials that are poorly packaged and arrive damaged to the destination. And when your customer is the recipient of broken materials and goods that your company has spent time and money creating, the result can cost you more than having to reship a new item. In fact, it could lead to losing a highly valuable customer.
It is for this reason that following proper shipping and packaging procedures for any industrial item is vital to achieving success and delivering high-quality customer service in today's business world. And no matter what type of material you are shipping or what kind of supplies, like steel strapping or high temp tape, are used to secure the shipment, there are four basic steps that should be followed.
Step #1 – Make sure to Determine Shipment methods
The first thing you should do before you pack up any item is learn how the item will be shipped. If you are shipping something next day air, it is likely that the package will undergo several different movements, handled by many people in several different containers, vehicles and air planes. It is also likely that the packaging will be handled aggressively in order to expedite shipments. No matter what you've seen on Fed Ex or UPS advertisements, the truth is the packages are always handled quickly and can easily be damaged if proper packaging procedures are not followed.
Step #2 – Determine you customer's needs and your product's strength
The next step in shipping any commodity is to understand the customer requirements and most importantly the strength of the materials you are sending. For example, if you are shipping raw metals to a custom fabricator, you will know that your materials are strong, but most likely will break standard cardboard or other loose fitting packaging materials. This is when you might want to use steel strapping to secure the items inside of cardboard which will increase the capability of protecting the shipment.
However, you also need to understand the customer's needs and abilities as well. For example, if you are shipping metal to a private customer who might not have strong bolt cutters to cut the steel straps, that's most likely not going to please the customer. Knowing all of these factors is critical before you begin the packing or shipping process.
Step #3 - Use the right materials to package your products to ensure safe delivery
After you've determined the needs of the customer and your materials, you'll then need to make sure to use the right materials to ship the package. If you're going to be shipping to a hot destination, or if the package will travel in warm environments, perhaps using high temp tape is the best course of action to protect the shipment and the integrity of the shipment packaging.
Step #4 – Over-protect your products to ensure quality shipments
In today's competitive business world, you can't afford to have a shipment damaged under any circumstances. This is why you should always consider over-protecting the integrity of the contents of the shipment and the container in which it is shipped to make sure your items are not damaged during the shipment process. Sure, you might get a refund from a shipment company who damaged the package, but can they cover the total price of the lost customer's future business? The answer to that question is a resounding no. When you're in the shipping and packaging industry, using the best materials to ensure proper delivery of your precious goods is critical to business success.
This is why we carry only the highest-quality packaging supplies at ABL Distribution. Whether it's steel strapping, high temp tape or other packaging supplies, we are an industry leader providing quality service. Our goal is to offer our customers a one stop shopping environment for all their packaging and shipping needs – at affordable pricing to ensure protection of their bottom line; without sacrificing shipping integrity.