Making Moving Easy with These Simple Tips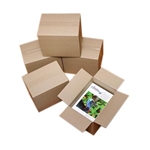 Moving is never fun and can be a huge hassle and a very stressful time. Between finding a place, packing, the process of moving everything from one location to another, and getting everything unpacked and settled, it can become overwhelming quickly.
Here are some simple tips to make your move less stressful:
Always be sure to mark your boxes as you pack them with a thick marker pen. This will be well worth the short amount of time it takes. In the process of moving, we all want to save as much time as possible. Sure, you may think you will remember what boxes go where, but experience will tell you that in all of the chaos, every box will seem like the one you are looking for.
Writing a short list of items that are in the box and the room that it goes in will help keep the clutter out of one area, and will get things unloaded quickly and easily. You may even want to number the boxes in the order you intend to unpack. You will be able to put the boxes in the rooms they go in and you will know exactly which ones need to be unpacked first.
Be sure you obtain the correct moving supplies for the job. Getting cardboard boxes that are too big or too small can make a move twice as long and leaves a lot of room for things to get damaged. Also, knowing which boxes are good for holding certain items will make things run a lot smoother (there's a box for almost everything!).
Heavy duty boxes are a must for heavier items so that you do not have to worry about them breaking or the bottom falling out while moving a load of books (sound familiar?). Custom boxes such as port a robe boxes, made for transporting a wardrobe, will make moving from one closet to the next one of the easiest parts of your moving experience.
One of the most important things to remember is to use proper lifting and moving techniques. You can't move your stuff if you hurt your back in the process. For certain items, a trolley will make a huge difference. When you have bigger items such as a washer and dryer, a trolley is a must if you are a DIY person.
The last thing, don't forget to pack your wine or other delicate items using butcher's paper or bubble wrap. You don't want these items to get scratched or broken. You may want to make the wine box the first one you open, so you can relax after all of the boxes are in your house J
Even the smallest things like choosing regular sized cardboard boxes versus smaller boxes or heavy duty boxes versus not-so-heavy-duty boxes can be tricky. Don't let moving get the best of you. Let ABL Distribution make your next moving experience one you can actually enjoy.
Contact us for more tips, suggestions, and help with moving and deciding on the right moving supplies. We'll help take the stress off of you!