Successful E-Commerce and Shipping—Why You Need to Rethink Your Packaging Strategy
Creative e-commerce offers people the opportunity to earn extra money without leaving their existing careers. From handcrafted products to the masterful use of Ebay, enterprising individuals can find much-needed income streams thanks to a virtual market place. Whether you create unique products, or you simply auction off found items or collectables, you know that half the battle is getting items to your buyers intact and undamaged. Before you can blame postal carriers for issues, you must first feel confident that you are packing your items correctly and securely.
From the right packaging supplies to the right technique, your packing can make or break your e-commerce endeavors, which is why you need a more strategic approach.
First and foremost, one of the most common errors in packaging box selection. Many people grab the cheapest box in what looks to be the right size, assuming they can make it work. However, with your e-commerce reputation on the line, you should look into custom boxes and cartons that are better designed for what you plan to ship. Next, people tend to cut corners on packaging materials,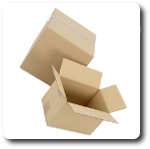 like using old newspapers or wrapping paper as protection and filler. For fragile items, you need quality bubble wrap and appropriate filler to safeguard your sale. Think of it this way: your buyers expect you to deliver on your promises, which is why you should approach packaging with a focus on professionalism and quality, not as an afterthought.
If you are unsure about how to best pack certain items, a little research should help you feel confident about your methods. As long as you are conscientious and start with the right boxes and materials, you should be able to ship even the toughest items to your customers. As always, shipping insurance is never a bad idea as well.
If you are looking for packaging supplies in the Gold Coast to help you support your e-commerce efforts, ABL Distribution is here to help. We offer a wide variety of materials and boxes, and we can help you create a plan for shipping success. To learn more about our products, contact us today at 1-800-984-822 toll free or local at 0756 185 100