The Do's and Don'ts of Cardboard Packaging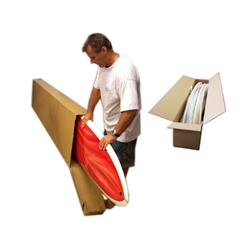 Having a damaged shipment arrive at your customer's location can cost you your account – period. This is a reality that business owners understand, yet many employees simply don't take seriously until it either costs them their job or a warning of compliance. Shipping your precious goods is serious business, and damaged shipments cost many manufactures thousands or millions of dollars in bottom line profit. It is for this reason that using proper cardboard packaging techniques and using the right cardboard boxes to ship precious goods is vital to business success and proper customer service standards.
Here are a few do's and don'ts when it comes to shipping cardboard packages to customers.
Do's for shipping Cardboard Boxes
Do – always use the right type of cardboard for the specific commodity. If you are shipping heavy materials, you need to always use heavier grade cardboard boxes that are designed to handle the excess weight.
Do – always use proper boxing techniques. When shipping any commodity it is important to make sure you follow proper packaging techniques that will protect the integrity of the items inside the cardboard box as well as the box itself. A simple rule of thumb is to:
Cushion the inside materials until there is no empty space inside the box
Use proper securing methods such as applying plenty of packaging tape to all four corners and the center of any cardboard boxes.
Never overload a cardboard box or stretch the capacity of the box.
Don'ts for Cardboard Boxes Packaging
Don't – never assume your packaging is 'good enough'. A basic rule of thumb is if you think the package is good; apply one more layer of protection to be certain. Overkill is acceptable when you are trying to ensure to protect your precious items and keep your customers happy.
Don't – never use broken cardboard. If you think you can tape up a broken box, you are most likely going to pay for that poor decision by having the box break while in transit. If a cardboard box is broken, recycle it.
Don't – never ship past the capacity of the cardboard boxes. If a cardboard box is designed to hold a capacity of a certain weight, please don't overload the box. Cardboard ratings are applied to ensure the protection of the items inside, and a common belief is if it fits – it ships ok. The problem is that if it fits, but is too heavy, it's most likely going to break.
You simply can't put a price on losing an important customer due to poor cardboard packaging. By following these three simple tips, your ability to ship cardboard boxes without them being damaged significantly increases. When you're in the shipping and packaging industry, using the best wholesale packaging materials is imperative. It's just about the only way to ensure proper delivery of your customer's items.
ABL Distribution only carries the highest-quality packaging supplies because we understand how important it is to your business.
While maintaining a one stop shop of high quality materials, we also keep pricing affordable because we also know that your bottom line is just as important. Order your cardboard boxes and cardboard packaging from us today!